Marcos Gonzalez Diaz
BBC News World correspondent in Mexico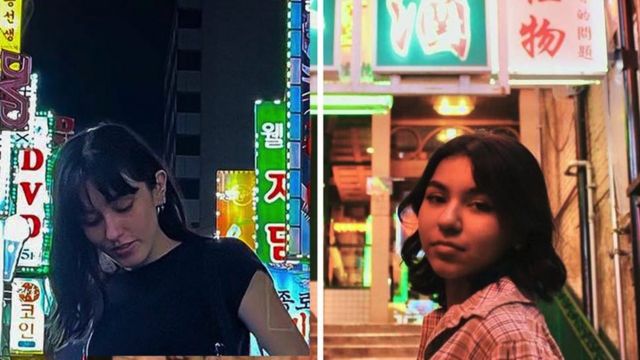 They never thought that Halloween almost 10,000 km from their home would turn into a tragedy where they were on the edge of their lives.
Juliana Velandia and Carolina Cano, aged 23 and 21 respectively, are the only two Mexican women injured in the stampede that claimed more than 150 lives in a popular Seoul nightlife district last Saturday.
Two young students from Mexicali, in the north of the country, arrived in the South Korean capital last August to study for a semester through a university exchange program.
Like other witnesses, they talk about a completely collapsed street due to the absence of police or security guards in the middle of the weekend celebrations.
And like other survivors, they remember the shocking minutes during which they were trapped among hundreds of people without the ability to move, as well as the eternal hour and a half that passed until they were able to meet again and between tears celebrate that they were both still alive.
With physical wounds, but especially psychologically affected – for whose recovery they ask support from mexican authorities, Both shared their story with BBC Mundo with great integrity from the bedroom they share in the Asian country.
CAROLINA CANO (CC): Itaewon is a very popular neighborhood in Seoul where many young people go and, especially this weekend when it was Halloween, it was like a place to celebrate. Then Juliana and I said: "well, we are in Korea, we have to walk".
JULIANA VELANDIJA (JV): I was hesitant to go, because I thought there would be a flood of people, that all the restaurants and bars would be very full… but well, we wanted to see how they celebrate it here. We never imagined this would happen.
CC: When we arrived there were already a lot of people, but after a few hours the crowd was much bigger. After walking around a bit and taking photos, we decided to leave because there were too many people. We took the subway, the exit was in that alley, and that's why we ended up there.
JV: It is one of the busiest streets in Itaewon where there are many restaurants, very famous clubs leading up the hill. We walked, and the traffic was getting bigger and bigger.
We are used to the fact that sometimes there are a lot of people in the metro and we are like sardines, but we can breathe and know that it will calm down when the people leave. And we thought it would be like that.
But it wasn't like that. It was getting worse and worse, they were crushing us more and more. And then I lost sight of Karolina.
There came a point where we could no longer move a single part of our body, we were a mass of bodies. I mean, there were people below me, above me, everywhere.
We were both lucky that our heads were above the surface and we could catch our breath, because the people who were below us, well, there was no chance.
Chest, back, chest… they were completely crushed. I could no longer expand my lungs to breathe. My feet no longer touched the ground because there were bodies under me, others began to crush my legs more and more, until I stopped feeling them.
At that moment, I swore that they would break my legs, that I would lose them forever because I stopped feeling them. I couldn't even move my toes.
But at that moment my priority was not my legs, but to keep breathing. And I realized that I couldn't do it through my nose, because that made my lungs expand, and I couldn't expand them. Then I realized that in order to continue breathing, it is necessary through the mouth.
CC: Since we were going downhill, we all started together. This meant that the person who was in front of me was suddenly on me, and I was on someone else… It was like dominoes.
I remember having a boy next to me. His neck was on my neck, trying to get out, pull his head out, until I couldn't breathe anymore. I was suffocating, I wanted to throw up, my throat was squeezing.
There came a time when I said, "Well, it's all over here." I actually closed my eyes, said goodbye to my family very loudly, and said, "Well, if I'm going, I want to go in peace."
I just closed my eyes, and when I opened them, I saw people coming to save us. And I said: "wow, then yes, we will live, we still don't have to leave".
JV: When they lifted the unconscious boy on top of me, I could breathe. But the problem is that my legs were still stuck between all the bodies and they were paralyzed.
Then a boy from Korea extended his hand to me, I grabbed it, and he pushed my whole body with all his strength.
I owe my life to that boy, a stranger whose name I will never know, but I am infinitely grateful. Forever.
We spent a lot of time trapped. I checked the last photo I had taken a few minutes before we entered the hill, a few meters away. He says it was 10:08 in the evening and as soon as they rescued me I looked at my cell phone and it said 10:57. So we spent 30 or 40 minutes broken.
JV: As soon as I was rescued, my priority was to find out where Carolina was. I couldn't find it and thought the worst. I stayed at the scene for an hour looking for her. I didn't know what to do, and I knew she had lost her cell phone, so I couldn't be contacted.
It wasn't until an hour later that she managed to contact me through the phone of a stranger who was with her. He marked me, he said: "here I am". And I started towards her and finally found her.
We hugged each other and started crying, crying because we both thought the worst.
CC: When I left I couldn't move, I think because of the shock I was still feeling. And then a girl approaches me with her group of friends, takes my hand and says: what's your name? Do you have a way of communicating? I won't leave you alone, I won't leave you alone."
And I think that group of people were truly my angels, because they were with me after the incident and helped me find Juliana, who was still my priority.
I was hysterical because I also thought that… that I had lost her [ambas juntan sus cabezas en señal de apoyo]. And yes, it was very, very difficult. It took us about an hour and a half to meet again.
JV: We think there are several factors that caused the accident: the number of people, the hill on which it happened… Since it leads directly to the exit of the subway, people were leaving wanting to climb the hill, and people were coming down wanting to enter the subway. There were people in both directions, going up and down. A lot of people in a very small place.
We saw that there was a lot of lack of control. There were people controlling pedestrian traffic between the streets. But other than that, I don't think I ever saw the police.
CC: The control was in the main streets where cars pass, but between the alleys of bars, clubs… no.
JV: We already feel much better physically. We have already been treated in the hospital, we are under medication. I was diagnosed with a condition called rhabdomyolysis due to lack of circulation in my legs due to crushing. Carolina was also injured, but luckily not as badly.
But mentally, emotionally… we are looking for psychological support.
We know that the culture here is much more closed. They don't talk about their mental health, they don't talk about their emotions. But we have seen that there are several support groups for survivors and families of victims.
Tomorrow we go to a support group to help us with the trauma. Right now we're watching and browsing our social media, because in reality we haven't seen anything, we're just going through our own grief.
CC: It's true that I don't follow the media and news too much, because I'm in the process of assimilation. But what I have seen is that there are mourning points in some places in the city.
JV: The scene is full of flowers, candles, letters. And we would like to go, but in the hospital they asked us to rest, we are locked in a room for three days.
We don't know anything about government support from the Korean government. The next day we were contacted by the embassy in Mexico and we spoke to the ambassador to see if they could offer us financial and psychological support, since we are now paying all hospital expenses with our scholarships.
But after looking for a psychologist ourselves, the Embassy tells us that their price is very expensive and that maybe a psychologist in Mexico is more affordable… but a video call is not the same as a personal conversation.
Considering we're the only two Mexicans affected by it, the truth is we're a bit disappointed.
By the way, my family was very optimistic. My mom is so thankful I'm still alive. They obviously miss us a lot and want to come here to see us.
CC: What will I do now? I will most likely stay and continue my exchange, but I still have the option of going back to my family and sometimes I feel like that's what I need… but I'm still in the process of debating whether to stay or leave.
We both studied the language before we came. So, we already knew something about the culture, we were already interested in Korea. In my case, I am a student of international business, and because of the economic boom in the country, I decided to come and study here.
JV: I also started learning Korean in Mexico and was very interested in that culture. Since I'm a medical student and want to do dermatology, I know that Korea has the best technologies when it comes to skin products, so knowing the language will help me work with other dermatologists here and research products and be able to bring them to Mexico .
I plan to stay. Carolina and I worked hard and suffered to get here. It's something I have to do, it's something I have to finish. I have to pass my subjects, I have trips planned. Obviously the only thing I want to do right now is be with my family, but… that will be in December.
remember that you can receive notifications from BBC World. Download the new version of our app and activate it so you don't miss our best content.