Alicia Hernandez
HayFestivalArequipa@BBCMundo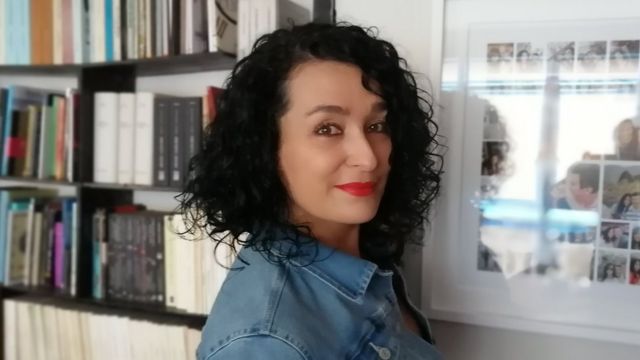 "If someone asks: 'What are those wounds on your chest?', the answer will be: They are the ones that were inflicted on me in the house of those who love me."
Since childhood, the house has been a place of refuge for Kathy Serrano (Venezuela, 1968), with beautiful things, but also violence.
So much so that when she was only 16 years old, she went to live alone in Caracas. He continued his migration journey towards the former Soviet Union and ended up in Lima (Peru), where he has lived since 1994.
In her first novel, "El Dolor de la Sangre," the protagonist, Martha, is a Venezuelan woman living in Peru fleeing her country and her abusive brother. Until they order photos that force her to return.
Martha confronts a present-day (albeit timeless) Venezuela she has memories of but doesn't belong to, on a journey where she also has to face monsters from the past.
BBC Mundo spoke to her in the frame froml the festival there Arequipa, which takes place between November 3 and 6 in that city Peruvian.
The idea of ​​this novel tand that was in my head for a long timenot?
I already wrote the first chapter in 2018, on a flight to Ecuador, but without a doubt there is something that comes from a lifetime.
I have an abusive brother. And when I arrived in Caracas, I wrote a play about the relationship of a woman with a brother of such characteristics.
Then the obsession with the subject of return begins. I wrote about it, but my house was robbed and I lost everything I wrote. I have five stories left that I don't think I will publish.
Five years ago, I devoted myself to writing, and that obsession of returning, with the idea of ​​the traveled path, of childhood, is appearing again.
And, I clarify: it is not autobiographical, just in case. I didn't fall in love with my brother (laughs).
Despite this, there are many similarities between the main character Martha and your. Both leave home early, problem of abusive brother, both end up living in Lima and never return to Venezuela,And even avoid. ¿What about Martha in from and vice versa?
There's a lot of it. Sometimes I feel that we definitely hold on to the things that we experience. As artists, we take things that marked us, broke us.
Home, childhood, family remain in your soul, in your body. They are the ones who feed us, crack and scar us.
There are many things that I absorbed from myself to create Marta. It is not very common for you to go live alone in a city like Caracas at the age of 16. I have been a migrant since I was 16 years old and it has marked my way of being, my soul.
I have known violence since I was a child and I have seen and experienced great things, not only my own but also those of others. I saw how violence was reflected in other families, in other women, in friends.
In turn, Martha has things that I would like to have. Like knowing a photo or what kind of inner strength you have. It stems from my own fears and experiences.
I went in 2012with to direct a play by a Peruvian playwright. It's funny, because it also had the word "blood" in the title.
He had not been there in Venezuela for 10 years.
When I finished reading the piece, without talking to anyone, I got out of bed, put on a sports shirt and went to an agency in a shopping center and bought a ticket to Venezuela.
Besides my brother, who is unfortunately violent, I have another one who adores me. And I asked him to accompany me on the way to my hometown.
I had to leave, come back and face it. But not in terms of anger, but with your vulnerability, pleasant and unpleasant memories. Face that memory to make it easier to get to Peru.
It was a journey of inner reconciliation with a series of memories and things that touch us. Now there is more talk about the violence that we women experience, but that violence has always been there.
It is precisely the novel that is dotted with violence, not only physical, but a wide and subtle range of violence.
As a person and as an artist, I am interested in touching on the subject of violence that haunts me. Make it visible, talk about it. It is transversal to our existence as women and is intended for children.
I was interested in talking about that closed space that is the house, that is the family. For as long as I can remember it's been said that it's the base of society, the place where you should be safe, where absolutely nothing can happen that could harm you mentally or physically, but I think it's where the vast majority of people around the world are born monsters.
Touch it, think about it, think about it, share it. Let's talk about that violence.
Violence against migrants appears in the book, not only by the host country, but also by compatriots who remain in the home country…
My migration was different from the migration of my compatriots, but I experienced that they did not give me a job and space because I am a foreigner. It's something hidden and you find out later, but it happens.
Then you decide to stay in the country, but you will never belong because you were not born there.
But when you come back, like I did back to Venezuela in 2012, they tell you things like "you're not from here anymore, you weren't in the family." That's what a sister told me. You're not anymore.
Other people who tell me not to speak, move or dress like a Venezuelan anymore. And there is another sensation, the one that has no words. I felt that there was no place for me, that they were not showing you a place. I began to fear the earth.
I love Venezuela and I love Peru, but I feel like I'm not really on either side.
It is painful not to belong, the inability to feel completely accepted anywhere. It is a non-being.
Then Venezuela came to me and I realized that for years I would suppress my Venezuelan identity in order to adapt to the place where I lived. I'm letting go now.
Marta goes through a strange process with words. He forgets how some things are said in Venezuela and says them in the manner of Peru. The words, are they forgotten and put in a corner so they don't remember or survive in a new place?
I think it's both. There are many things I forgot as a defense mechanism. Forgetfulness is a way of survival.
For example, I missed "I'm arrecha" (I'm angry), and in Peru it's something else (to be excited). People looked at me in surprise. When I arrived in Lima in 1994, there were almost no Venezuelans. Lima was another one. It is now filled with accents.
These are words, tones of voice, ways of speaking. We Venezuelans speak more directly, frontally. It's different in Peru and I modified this as well. you have to adapt.
I numbed my Venezuelan identity. I don't know if it was to fit in or to be liked, to fit in to survive.
But he sayswith that later "Venezuela attacked him"…
When Venezuela happens (the crisis of recent years), I start to feel in my chest that something is cracking, breaking.
I talked to my family and told them what I saw and experienced while studying in the Soviet Union, and they told me no, that something like this would not happen.
Then people started migrating and walking on the roads, people with their children in their arms, everything was extremely painful for me. And I faced myself when they arrived in Lima.
It's like you broke an egg and a colorful butterfly came out.
Venezuela attacked me so that my Venezuelanness would come out again, be more free. I am Peruvian who was born in Venezuela. It's painful.
There is a scene, in a cafeteria in Caracas, where everything is cool. Until a simple question unleashes demons from around the world.
I wanted one word to blow everything up. It's what's underneath and there are layers and layers.
Behind joy, beauty and cool is pain, tragedy. And the fact that we are like this, that "it was great for us anyway", maintains this situation for so many years.
He paints an exhaustive portrait of Venezuela, quite detailed for those who know it, with lights and shadows. But it puts us in an indefinite time, we don't know what year it is, who rules.
I was not told that, it is another novel for which I would have to close myself off, study and be very thorough.
What I am showing is a hybrid Venezuela. I'm more interested in subtlety, suggestion.
Martha's mother and grandmother are Colombian. At one point in the book, the rejection of Colombian migration by Venezuelans is reflected… Do we have short memories?
It has to do with my family. My grandmother, mother and great-grandmother were Colombian. They were very poor and came to Venezuela on foot. I wanted to use it.
When I was a girl, in Táchira (the Venezuelan border country with Colombia), everyone was foreign: Portuguese, Germans, Turks, Chinese… But there was something painful in that fight with the Colombians. In the treatment, the nicknames, the fear that was there.
I did extensive research for the novel and talked to different people about it.
This thing is back and forth. Today I bully you, and tomorrow you bully me. We learned nothing.
The Venezuelan lived a golden age with great abundance, many migrants arrived there who got rich, but there were others who were unfortunately rejected.
Now it is the other way around, this city that had so much, that it was not used to migration, except for vacation or study, received a very hard lesson. They go to other places and get open doors, but also rejection.
¿The he served this book to heal, to redeemthe from tdo you have your own story?
The act of writing can really serve a lot to free you, to transform that part of the story that hurts you, that hurts you and you have it stored there.
There are some scenes (in the book) that are powerful. I didn't want to do autofiction, that's why I transform things.
For example, Rodrigo (brother of Martha, the protagonist), who was inspired by this brother of mine, has the same initial. But when I wrote it, I didn't feel like showing off much. I postponed his appearance. I liked playing through dreams a lot. Play with things in the real world and the dream world.
Within this cleansing, this redemption and healing, there is also an ode to love here homeland, Venezuela. Everything is full of food, music and smells of that country.
There was something that came up. And that was born from the trip I made in 2012 with two of my brothers, where I once again felt the tastes and smells of the country. I feel it's part of love.
Just like music. I wanted Martha to whistle when she was on the road, that the sound always accompanied her, that which has the smell of passion fruit in Lima, which turns into passion fruit in Venezuela, the color of Venezuela, the sea, the sand, that coralline that you step on and the beauty doesn't burn you.
I feel a lot of beauty and a lot of love. I wanted to make a braid between love, beauty and violence.
This article is part of the digital version of the Hay Festival Arequipaa meeting of writers and thinkers that takes place in that city Peruvian from 3 to 6 from November. Follow all reports here.