(EFE).- This Wednesday, Google announced several of its latest achievements in artificial intelligence and its applications in different fields, from medicine, disaster prevention, robotics, literary or video creation.
One of them refers to the expansion of the flood forecasting initiative, which has been implemented in India and Bangladesh so far, and will now be expanded to 18 more countries, fifteen of which are in Africa, two in Latin America (Brazil and Colombia) and one more in Asia (Sri Lanka).
In parallel, Google announced the global launch of the FloodHub tool, a platform that indicates when and where floods may occur and whose information Google wants to soon be available from its map and search engine.
Director of Innovation and Research, Katherine Chou, assured during a presentation at Google's offices in New York that this technology "has the potential to reduce mortality and economic damage between 30% and 50%" and that they are also developing a similar fire detection tool that is already available in United States, Canada, Mexico and parts of Australia.
ULTRASOUND AND DIAGNOSTICS
Chou also noted that Google is implementing AI in low-cost ultrasound imaging to easily gather information and help interpret the images "to help healthcare professionals identify problems early in pregnancy."
Medical diagnosis using retinal images, performed with ARDA technology, is another field in which Google is trying to advance with the application of artificial intelligence, and it is already being used in India.
Now, the tech giant wants to go a step further and is trying to make those diagnoses individually via a cell phone camera.
LANGUAGE RECOGNITION AND CREATOR AI
Google does not want to limit the use of its technology or the sale of its products only to users of the most widely spoken languages, but, as announced today, it has launched "ambitious research to create an artificial intelligence model that supports a thousand of the most widely spoken languages ​​in the world.
Today, they also presented two new projects related to the creation of images via text instructions called "Imagen Video" and "Phetaki".
Using these applications, the machine creates fictitious high-resolution images in response to written commands that, in the case of photography, look very real.
They also showed how the robotic arm responded to certain information and was able to come up with associations of ideas: thus, the user who writes to the robot that her favorite cup is blue and that her favorite sweets are "emanems", to which the robot responded by taking a small bag of "emane" and placing it in a blue cup.
They also announced that they are continuing to develop tools to help write literary texts, for which they gathered a group of professional authors who were asked to create fictional texts using the Google LaMDA tool.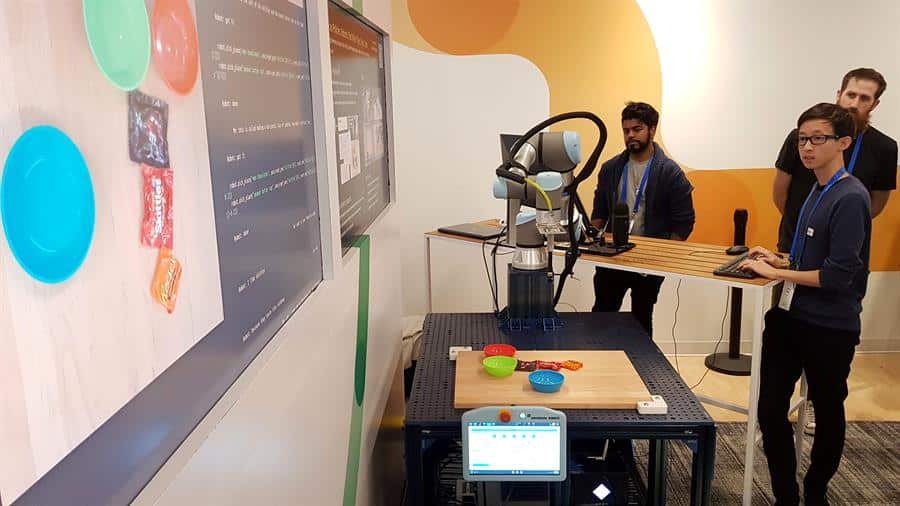 SECURITY AND PRIVACY
Aware of all the privacy and security issues arising from the creation of texts, high-quality realistic videos or the reproduction of faithful human voices, all speakers pointed out that Google takes care of all these issues and has strict protocols.
"Obviously, there are some issues here that I want to talk about, toxicity, misinformation and bias" in issues such as the use of fake images that could be used "to make it even easier to be to blur the distinction between what is real and what is not. was recognized by the chief scientist of Google Research, Douglas Eck.
In this sense, Eck pointed out that Google intends to create controls over the "creation of images and videos" with this technology to, for example, "minimize the creation of toxic or violent content."
He also noted that they were working hard to ensure that these synthetic products were detected in case they were spread over networks.
"So we will continue to work on these two forms of control. First of all, when creating, to create responsibly, i when it spreads, that we have ways to protect it", he emphasized.